Requesting a Quote?
Looking for better pricing for an item? Create a new company account now to gain access to quoting, quick ordering, and more. Learn more details
here
.
Financial Options Available
Rode RodeLink Wireless Filmmaker Lav System
Includes Transmitter, Receiver, Lav Mic
Series II 2.4 GHz Digital Transmission
128-Bit Encrypted Signal
24-Bit/44.1 kHz Lossless Transmission
Up to 328 ft Range
One Touch Pairing
OLED Digital Display
3-Level Gain Control
USB and AA Battery Powered
Use up to 8 Systems Simultaneously
The Rode RodeLink Wireless Filmmaker Kit is a wireless system for film and video production that features a transmitter, receiver, and an included lavalier microphone. The system utilizes a Series II 2.4 GHz 128-bit encrypted digital transmission signal that constantly monitors and hops between frequencies to select the strongest signal. The kit offers a high signal-to-noise ratio and provides a high-resolution 24-bit 44.1 kHz digital transmission of lossless audio at a range of up to 328 ft. Up to 8 systems can be used together simultaneously.
The beltpack transmitter features a simple 3-stage gain adjustment and a mute lock function to prevent accidental muting. A locking 3.5mm input audio connector ensures body worn microphones remain secure. The camera mount receiver features a removable shoe mount enabling it to be used on camera or as a belt pack receiver. A mute override function gives complete control to the operator, while mute status, input level, and battery status for both the transmitter and receiver are displayed on the front of the unit. The receiver also utilizes the same locking 3.5mm connector as the transmitter to provide solid security.
Both the beltpack transmitter and camera mount receiver can be powered by any USB power source using a standard micro-USB cable. The system offers eight discrete channels that can easily be set up in seconds with over 8000 different channel combinations available. Channel selection and pairing is achieved with a one-press operation and automatic scanning, which significantly reduces setup times when compared to traditional UHF setups.
Features
Includes Transmitter, Receiver, Lav Mic
Series II 2.4 GHz Digital Transmission
128-Bit Encrypted Signal
24-Bit/44.1 kHz Lossless Transmission
Up to 328 ft Range
One Touch Pairing
OLED Digital Display
3-Level Gain Control
USB and AA Battery Powered
Use up to 8 Systems Simultaneously
In the Box
Lavalier Microphone
RX-CAM Wireless Receiver
TX-BELT Wireless Transmitter
Captive TRS Cable
Limited 2-Year Warranty for Transmitter and Receiver
Limited 10-Year Warranty for Lavalier Microphone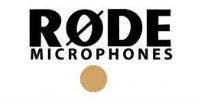 More From Rode
View Page
More Information
SKU
51258
Brands
Rode
MPN
RODLNK-FM
Specifications

General Specifications

Transmission Type: 2.4 GHz fixed frequency agile system
Dynamic Range: 112 dB
Range: 328 ft
Frequency Range: 35 Hz to 22 kHz
Maximum Output Level: 1 Vrms (2.8 V, peak to peak)
Maximum Input Sound Level: 1 Vrms (2.8 V, peak to peak)
Latency: Maximum Latency: 4 ms

Receiver

Power Source: 2 x AA battery and micro-USB
Antenna: Internal
Output Connection: 3.5 mm TRS jack socket (dual mono with thread lock)
Output Impedance: 300 ohms

Transmitter

Power Source: 2 x AA battery and micro-USB
Antenna: Internal
Input Connection Type: 3.5 mm TRS jack socket (with thread lock)
Input Impedance: 10 kOhms

Lavalier Microphone Specs

Acoustic Principle: Pressure gradient
Active Electronics: JFET impedance converter
Capsule: 0.1"
Polar Pattern: Omnidirectional
Frequency Response: 60 Hz to 18 kHz
Output Impedance: 3 kOhms
Max SPL Level: 110 dB SPL (@ 1 kHz, 1% THD into 1 ohm load)
Maximum Output Level: 189 dBu (@ 1 kHz, 1% THD into 1 kOhm load)
Sensitivity: -33.5 dB, 1 V/Pascal (21.00 mV @ 94 dB SPL) ±2 dB @ 1 kHz
Equivalent Noise Level: 25 dB-A (A-weighted)

Physical Dimensions

Dimensions (H x W x D)

Receiver: 4.4 x 2.6 x 2.0"
Transmitter: 4.4 x 2.6 x 1.6"
Lavalier: 47.2 x 0.2 x 0.2"

Weight

Receiver: 6.7 oz
Transmitter: 6.7 oz
Lavalier: 0.04 oz