Requesting a Quote?
Looking for better pricing for an item? Create a new company account now to gain access to quoting, quick ordering, and more. Learn more details
here
.
Financial Options Available
Teradek RT OMOD Wireless Lens Control Kit with 6-Axis Transmitter for RED
6-Axis MK3.1 Transmitter/Controller
Use with OMOD COMMAND RT / POE Receivers
Includes MK3.1 Motor with Drive Cable
Customizable Camera Controls
Approx. 3000' Range
Expandable with Motors and Thumbwheels
Includes Hard Case
The Teradek RT OMOD Wireless Lens Control Kit with 6-Axis Transmitter for RED is an all-inclusive kit that contains all necessary cables to connect for controlling cinema lenses mounted to a RED cinema camera with an OFFHOLLYWOOD OMOD COMMAND RT or POE module installed. The kit is based off a 4-axis MK3.1 transmitter which can communicate to Teradek RT and OFFHOLLYWOOD OMOD hardware.
RT MK3.1 6-Axis Wireless Controller provides up to 6-axis lens motor control (receiver and motors available separately). Stepping-up from the 4-axis version, the MK3.1 6-Axis Controller includes a Force Joystick zoom button for smooth, sensitive zoom moves. It also offers a large focus knob, one slider control, and two side knobs (A and B). Each input on the versatile MK3.1 Controller can be mapped to any lens axis (focus, iris, zoom direction/speed, or 3D function) as you prefer. In addition to F/I/Z control, the MK3.1 system enables you to remotely start/stop select HD cameras such as ARRI, Blackmagic, Phantom Flex, RED, Sony, and LANC-compatible models.
Automatic and manual calibration options combine with a large, adjustable fluid-feel knob to provide lens-friendly adjustments. Navigate the MK3.1 Controller's menu using its push buttons, and view your settings on the OLED screen display. The lightweight MK3.1 system features 42 selectable channels, 16-bit transmission up to 0.9 miles, and minimal latency of 2 ms. Wired operation is supported for locations like medical facilities where RF transmission is not allowed.
Constructed from aerospace-grade aluminum, the MK3.1 Controller is designed with internal antennas to lessen the possibility of damage. A lanyard-mounting point, and three 1/4"-20 mounts provide options for safely securing the controller when you need to free your hands for other tasks. The MK3.1 Controller is powered using widely available Canon LP-E6 batteries, providing a runtime of up to 36 hours. The MK3.1 can also be powered via USB, after removing the spent LP-E6 battery.
The RT MK3.1 Brushless Lens Motor is designed to remotely control your lens focus, iris, or zoom, or other function. The MK3.1 motor operates smoothly and quietly, even during slow, high-torque moves. This brushless motor features electronic backlash-compensation, a high-resolution encoder, and an integrated heat sink. For optimal flexibility, a gear can be attached to either side of the MK3.1 Motor, expanding position choice to either side of the lens, depending on your camera configuration.
The 12" RT Latitude MDR Motor Cable from Teradek to connect the MDR lens motor to a Latitude MDR or MK3.1 receiver. Design features include thin, ultra-flexible cable, and two right-angle connectors. This cable is designed to exit the motor in a vertical position, creating a neat, compact route to the Latitude MDR receiver (however, the angle points downwards from the MK3.1 receiver).
Use this 6.6' RT Wired-Mode Controller Cable from Teradek to connect an RT controller to an RT receiver in settings like hospitals where wireless use is not practical, or not permitted. This cable is compatible with the MK3.1 Controller, MK3.1 Receiver, all Latitude MDR models, Smartknob, other RT controllers, and supported OMOD controls.
Design features include two LEMO connectors, both straight-angled. One of three lengths available, this RT Wired-Mode cable enables you to work up to 6.6' away from your camera rig.
Use the RT MK3.1 System Case to transport a complete MK3.1 lens control system. The interior of this hard case has a foam interior custom-cut to fit up to three lens motors, one receiver, eight marking disks, and accessories such as a thumbwheel. The MK3.1 System Case is a dust-proof, waterproof case with an integrated pressure valve. Your receiver and motors may be stored attached to their mounting brackets, saving you time when reassembling the system.
This RT Controller Neck Strap is designed to carry the MK3.1 controller hand unit. Use this strap to position the control unit around your neck or across your body, or to drape the controller from a stand when not in use.
The Paralinx 7.4V/2000mAh Li-Ion Battery a Canon LP-E6-style battery designed for powering the Paralinx Triton transmitter unit. It features a capacity of 2000mAh and 7.4V of output and can power the receiver for approximately 2 to 3 hours. It attaches directly to the compatible battery plate on the transmitter unit.
The Paralinx Battery Charger is designed for charging the LP-E6 compatible 7.4V/2000mAh battery pack for the Paralinx Triton transmitter unit.
The White Marking Disk for RT MK3.1 Controller f works with the RT MK3.1 hand unit. Use this beveled disk for marking focus distances or iris stops. Marks from non-permanent and china markers are easily removed; use isopropyl alcohol to clean notations made with permanent markers.
In the Box
MK3.1 6-Axis Wireless Lens Controller with Joystick Zoom
Force Joystick (Factory-Fitted)
White Marking Disk for RT MK3.1 Controller
RT MK3.1 Brushless Lens Motor
RT Motor Gear (0.8-Mod, 32-Pitch)
RT MK3.1/3 Motor Bracket for 19/15mm Rods
RT Latitude MDR Motor Cable (12", RA to RA)
RT Wired-Mode Controller Cable (6.6')
RT Case for MK3.1 System with Up to 3x Motors
RT Controller Neck Strap
LP-E6 Compatible 7.4V/2000mAh Lithium-Ion Battery for Paralinx Triton Transmitter
LP-E6 Compatible 7.4V/2000mAh Battery Charger with US Plug
Euro Plug Adapter
12V Auxiliary Power Adapter
3 x White Marking Disk for RT MK3.1 Controller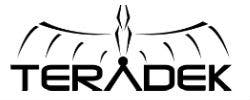 More From Teradek
View Page
More Information
SKU
69316
Brands
Teradek
MPN
15-0042
Specifications

MK3.1 6-Axis Wireless Lens Controller with Joystick Zoom

Power Requirements
Canon LP-E6 Battery: 6.2 to 8.4 V
USB Port: 4.75 to 9 V (maximum)
Transmission
Rate: 16-bit
Range: 0.9 miles (1.5 km)
Latency
2 ms
Certifications
FCC/IC/CE
Mounting Options
3 x 1/4"-20 holes
1 x lanyard mount
Material of Construction
Aerospace-grade aluminum billet
Dimensions
Excluding Knob: 5.5 x 2.8 x 1.2" (140 x 70 x 31 mm)
Including Knob & Antenna: 6.1 x 4.3 x 3" (155 x 110 x 75 mm)
Weight
1.3 lb (576 g)

RT MK3.1 Brushless Lens Motor

| | |
| --- | --- |
| Maximum Torque | 2.2 nm |
| Dimensions | 4.5 x 1.6 x 1" (115 x 40 x 26 mm) |
| Weight | 7.5 oz (212 g) |

RT Latitude MDR Motor Cable (12", RA to RA)

| | |
| --- | --- |
| Cable Length | 11.8" (30 cm) |

RT Wired-Mode Controller Cable (6.6')

| | |
| --- | --- |
| Cable Length | 6.6' (200 cm) |

RT Case for MK3.1 System with Up to 3x Motors

| | |
| --- | --- |
| Dimensions | 8.3 x 7.5 x 10.6" (21 x 19 x 27 cm) |
| Weight | 4.4 lb (2 kg) |